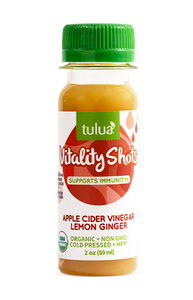 great customer service!
I had an issue with a shipment, the wrong flavor was sent and I left a review of only 3 stars, I wish I had called them first. When I did call they offered to send out the right flavor without question . Not only did they ship the one that I ordered they sent a second box also. I have always loved their product and now I can say the same for their customer service!!
My go to shot
When I felt like I came down with something, I took these Apple Cider Vinegar shots straight. And they really helped me recover. It hard to drink them straight. But I felt great afterward. Thank you
Morning Wellness Essential
I love ACV combined with ginger and lemon. Prefect for my morning wellness routine!
Love ACV!
I love all the benefits of ACV and this shot is perfect. I usually take it in the morning :)